Gummi-Welz Poland: HÜBNER's Polish GRP location
28.05.2021

Technical expertise, a high level of delivery reliability and an improved connection to international sales markets: For two years, the company Gummi-Welz Poland Sp. z o.o. (GWP) has now been part of the HÜBNER Group – a leading worldwide supplier of the bus and rail industry. At this juncture both companies are taking stock of the new relationship that has been forged. "We are confident that with the competencies that GWP brings to the Group we will be able to continue to improve our market position in the Material Solutions business segment," says General Manager Ingolf Cedra in regard to the development of the company.

At the GWP location in Trzcianka, Poland, the HÜBNER Group has invested more than half a million euros since the acquisition – "particularly in occupational safety, environmental protection and state-of-the-art painting and coating technologies," reports Albert Herb, Head of Operations. Not only will this work to increase delivery reliability for customers, it will also make GWP an attractive employer beyond the immediate vicinity of the Trzcianka location. Cedra: "We are pleased that together with our kaizen specialists we have been able to support the next steps towards implementing effective lean manufacturing at GWP and to promote the location in this way."

In the course of 2020 there have a number of personnel management changes at GWP: "We have adjusted the organization of employees, implemented qualification measures and put a management structure into place that is ready to meet the needs of the future and of our customers," says Plant Manager Maciej Handzel. An important step in these efforts was the qualification of the gluing processes as well as the certification of operations in accordance with DIN 6701 in 2021.

At the same time, the product portfolio has been adjusted so as to be able to provide a clear spectrum of products in the area of GRP hand lamination, RTM technologies and full assembly. Gelcoating technology is also being used more and more, complementing the company's painting expertise. To continue to improve the ecological footprint of GWP products, the chemists from HÜBNER are working together with the GWP development department on new sustainable options for materials.

"With the help of the HÜBNER Group, GWP has managed to improve its delivery performance substantially in comparison to 2018 and 2019 – as shown in quality performance indicators as well as in delivery reliability," says Herb. "And the most important feedback has come from GWP customers. We are receiving steadily rising supplier evaluations, which shows us that we are on the right track."
Cedra likewise emphasizes the progress being made: "HÜBNER is very satisfied with the progress that the team around Plant Manager Maciej Handzel and Material Solutions Head of Operations Albert Herb has achieved. A future-ready location has been established here."

Zurück zur Übersicht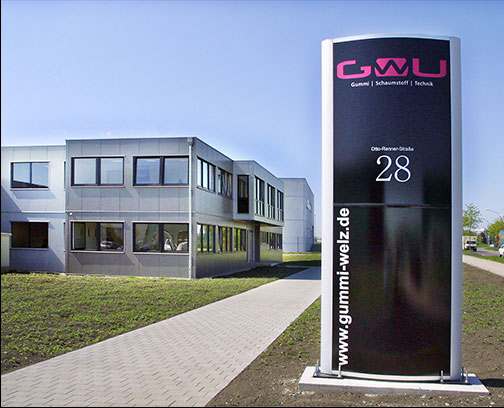 Gummi-Welz GmbH & Co. KG
Otto-Renner-Str: 28
89231 Neu-Ulm
Tel: +49 731 93609-0
Fax: +49 731 93 609-90
info@gummi-welz.de
www.gummi-welz.de